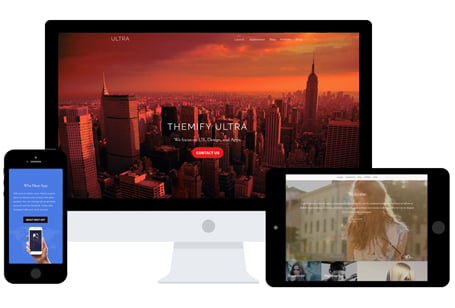 Website demos optimize our marketplace.  Here are my top choices for Themify Themes. 
Build a landing page
in a matter of minutes.
Themify Builder has over 100 uniquely already design templates that are easily ready to be replace with your own copy and images.  You can also create your own designs with the available section templates: contact, team members, shop, or many other features. If you don't like your design you can easily over write it with another template or delete that section. You can experiment over and over with new layouts.
Themify Layouts
Themify layouts are a professional website builder, harnessing the powerful Ultra Software skin to create an intuitive, appealing, and helpful site. Allow us to take care of the users browsing your website, so you can spend time advancing your business.
Skins & Premade Demos
Use the entire skin, or mix and match different layouts for the perfect combination of pages. Take advantage of our easy parallax and section scrolling features wherever you see fit.
Flexible Layout Options
Reduce your web designer or developer's time working on your software website. Seamlessly integrate the demo to your site with our 1-click import feature, and include all the demo images if you prefer. 
Each header and page style has something unique to offer. You'll have fun finding something that suits your particular needs. Use this part of the site to list your software products and available packages. Ensure your product descriptions are both detailed yet clear.
Footer layouts are important – some companies prefer a streamlined look. Some use it as the navigational base so that users can easily access everything they need at their fingertips. 
If you've created a masterpiece of a page to meticulous detail, don't do it all over again! Save your page layout and use it anywhere else on the site you want. Do the same for any section of your page too.
Eventually when your wheels get turning, a WordPress powered site will be your go to as blog content can drive traffic to your site and software. Make sure you reach out to your audience with the perfect blog post layout of your choice.
Drag and Drop Builder
Themify Builder is one of the most powerful and intuitive page designers and builders for WordPress. Design any layout imaginable!  Select, drag-and-drop, and watch your beautiful site come to life with live preview.
Use this section to show your software in action! Let your users see what they can accomplish with the help of your great innovation.
Exclusive Features
Highlight your software services in flawless fashion.